Books/Plays

Finished

1. A Storm of Swords, Part One: Steel and Snow (George R.R. Martin)
2. The Horse and His Boy (C.S. Lewis)
3. Shirley (Charlotte Brontë)
4. "Fundamentalism" and the Word of God (J.I. Packer)
5. The Hunger Games (Suzanne Collins)
6. The Simpsons and their Mathematical Secrets (Simon Singh)
7. Moriarty (Anthony Horowitz)
8. Why Christians Should Support Israel (Mike Evans)
9. A Vision of Fire (Gillian Anderson & Jeff Rovin)
10. The 100 most Pointless Arguments in the World Solved (Richard Osman & Alexander Armstrong)
11. The Magician's Nephew (C.S. Lewis)
12. Othello, the Moor of Venice (William Shakespeare)
13. What's in a Name? (Cyril M. Harris)
14. The Ocean at the End of the Lane (Neil Gaiman)
15. The First Easter (Retold by Sally Ann Wright)
16. Little Lord Fauntleroy (Frances Hodgson Burnett)
17. 'Salem's Lot (Stephen King)
18. Love to the Uttermost (John Piper)
19. The Cuckoo's Calling (Robert Galbraith)
20. A Storm of Swords, Part 2: Blood and Gold (George R.R. Martin)
21. Vanity Fair (William Makepeace Thackeray)
22. Real Lives (D.J. Carswell)
23. The Last Battle (C.S. Lewis)
24. Bible Delight (Christopher Ash)
25. The Hunger Games: Catching Fire (Suzanne Collins)
26. The Kite Runner (Khaled Hosseini)
27. Westward Ho! or, the Voyages and Adventures of Sir Amyas Leigh, Knight, of Burrough (Charles Kingsley)
28. The Well of Lost Plots (Jasper Fforde)
29. Esio Trot (Roald Dahl)
30. A Fresh Start (John Chapman)
31. The Silkworm (Robert Galbraith)
32. The Case for Christ (Lee Strobel)
33. King Henry the Fifth (William Shakespeare)
34. Church of the Triune God (Edited by Michael P. Jensen)
35. Barnaby Rudge (Charles Dickens)
36. A Feast for Crows (George R.R. Martin)
37. Stars in God's Sky (Faith Cook)
38. The X Files Season 10, Volume 4 (Joe Harris)
39. The Girl on the Train (Paula Hawkins)
40. Lord Jim (Joseph Conrad)
41. As You Like It (William Shakespeare)

In Progress

Bag of Bones (Stephen King)
At the Master's Feet (Sadhu Sundar Singh)

Planning to Read

A Walk Among the Tombstones (Lawrence Block)
Something Rotten (Jasper Fforde)
The Vampire of the Villas (John Pye)
The Hunger Games: Mockingjay (Suzanne Collins)
Aberrant (Ruth Silver)
Raising Steam (Terry Pratchett)
Why Believe in God? (Michael Goulder & John Hick)
Waverley (Sir Walter Scott)

Movies

1. The Hobbit: The Battle of the Five Armies (Peter Jackson, 2014)
2. One Hundred and One Dalmatians (Wolfgang Reitherman, Hamilton S. Luske, Clyde Geronomi, 1961)
3. Back to the Future Part III (Robert Zemeckis, 1990)
4. Exodus: Gods and Kings (Ridley Scott, 2014)
5. Puss in Boots (Chris Miller, 2011)
6. Shaun of the Dead (Edgar Wright, 2004)
7. Mad City (Costa-Gavras, 1997)
8. Ted (Seth MacFarlane, 2012)
9. Calvary (John Michael Donagh, 2014)
10. Avengers Assemble (Joss Whedon, 2012)
11. Hamlet 2 (Andrew Fleming, 2008)
12. X-Men: Days of Future Past (Bryan Singer, 2014)
13. Rumble Fish (Francis Ford Coppola, 1983)
14. Looper (Rian Johnson, 2012)
15. Boyhood (Richard Linklater, 2014)
16. Whiplash (Damien Chazelle, 2014)
17. Night at the Museum: Secret of the Tomb (Shawn Levy, 2014)
18. 1001 Gram (1001 Grams) (Bent Hamer, 2014)
19. The Dark Crystal (Jim Henson, Frank Oz, 1982)
20. Carnage (Roman Polanski, 2011)
21. Avengers: Age of Ultron (Joss Whedon, 2015)
22. Wreck-it Ralph (Rich Moore, 2012)
23. Alan Partridge: Alpha Pappa (Declan Lowney, 2013)
24. Malice in Wonderland (Vince Collins, 1982)
25. The Wicker Man (Robin Hardy, 1973)
26. The Hunger Games (Gary Ross, 2012)
27. Prometheus (Ridley Scott, 2012)
28. Shutter Island (Martin Scorsese, 2010)
29. Jurassic World (Colin Trevorrow, 2015)
30. Warm Bodies (Jonathan Levine, 2013)
31. Sin City: A Dame to Kill For (Robert Rodriguez, Frank Miller, 2014)
32. Far from the Madding Crowd (John Schlesinger, 1967)
33. Star Wars Episode IV: A New Hope (George Lucas, 1977)
34. Barbican Regained (A.P. Herbert, 1963)
35. Ted 2 (Seth MacFarlane, 2015)
36. The Curse of Frankenstein (Terence Fisher, 1957)
37. Goodbye, Mr. Chips (Sam Wood, Sidney Franklin, 1939)
38. Mission: Impossible - Rogue Nation (Christopher McQuarrie, 2015)
39. The Watch (Akiva Schaffer, 2012)
40. Dead Poets Society (Peter Weir, 1989)
41. The Bad Education Movie (Elliot Hegarty, 2015)
42. Life of Pi (Ang Lee, 2012)

Seen for the first time: 33
Rewatched: 9
Current Location:

My Flat

Current Mood:

thoughtful

Current Music:

Mr. Scruff, "Kalimba"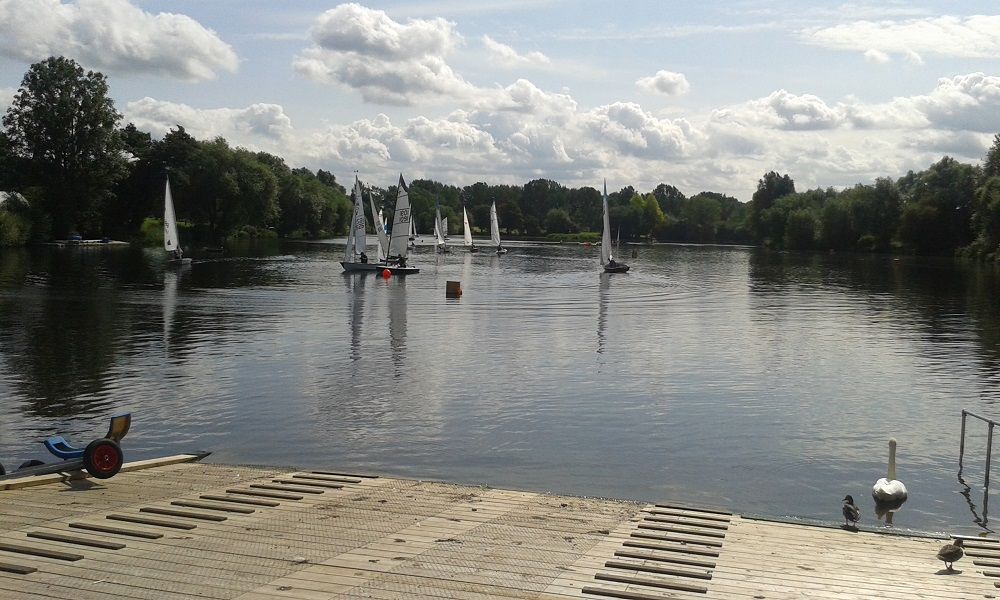 Picture of a boating lake I walked around today. The weather was really nice for spending time out of doors.
I hadn't been to this place in years but it was nice to walk around, watching people fishing and having mini-BBQs. There was a funfair that seemed to not be running at the time; it just had a few kids running around in it. I did some shopping this afternoon.
I went to the local swimming pool yesterday afternoon. I have an outdoor pool down the street from me but I hardly ever go.
Time off work has been fun.
Current Location:

My Flat

Current Mood:

hot

Current Music:

Biffy Clyro, "Saturday Superhouse"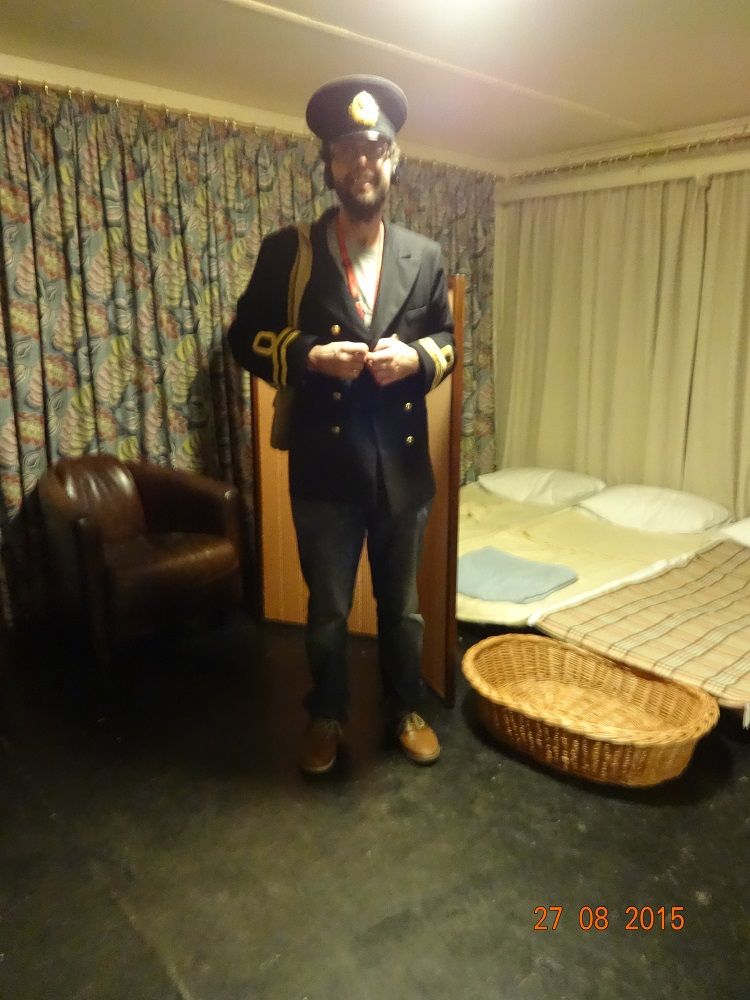 I was talked into posing in this gear yesterday because my beard "made me look like a naval captain".
This was taken at Eltham Palace yesterday, and I had a good day out - the weather was good, and the palace is more modern and was interesting to look at. The only problem was that the audio guides were quite long winded, and I tend to feel obliged to listen to as much of it as I can just so I can learn something. We should have had lunch before we went around.
We ended up going back into the centre and having a walk along the south bank, before trying to get into a restaurant where the waiting time as 1 1/2 hours, so we left it. We should have stayed because the place where we went was terrible. We were stuck on not a great table as it was right on the thoroughfare into the restaurant (I hate it when even a small handful of people breeze right past my chair when I'm trying to relax). One woman was being seated and she didn't like the table, saying it was "in the corridor", so the waitress quite brashly told her to go back to where she had been waiting. They took ages with our food and didn't apologise.
We did also have a day out on Wednesday more locally, to another stately home, but the weather was awful.
And here are some other pictures:
(
Read more...
Collapse
)
Current Music:

Oasis, "Lyla"


I did hear though that a friend of mine who moved away from the church has finally admitted he misses us and wants to come back, after a lot of blanking my "we all miss you" texts.

I've got the week off work, and yesterday I helped sort through old pictures that had been found in the garage. Some of them showed me as a boy, and it's weird how different I looked. They were mostly not in chronological order, and in some cases we had no idea where they were taken. There was some random stuff, like pictures of teddy bears/other toys.

We're planning a visit to Eltham Palace this week, but we keep putting it off due to bad weather forecasts.
I realised on Sunday just how many people are leaving my church for various reasons; it's really hard when people I've known for so long are moving on.
Current Location:

My Flat

Current Mood:

chipper

Current Music:

Scouting for Girls, "Blue as Your Eyes"
Do you have any books that you have been meaning to read, but just haven't gotten around to? What are they? How did you hear about them, and why do they interest you?
I've had The Hunger Games: Mockingjay for ages and not got round to reading it yet. It's on my reading list, though. I do also have a book somewhere about Kylie Minogue somewhere that I bought years ago, but have so far barely got past looking at the pictures. As for how I got interested - The Hunger Games: I'd just heard they were good and I saw the whole trilogy cheap. The Kylie book: I was going through a loving Kylie's music phase.
Current Location:

My Flat

Current Mood:

thoughtful
First off, I have never found Joseph Conrad's books particularly easy to read, and this was no exception.
The story starts with a ship capsizing at sea, and in the ensuing court hearing, the eponymous Lord Jim is found guilty of cowardice and desertion. The second half of the book involves Jim, accompanied by another character, Marlow, leaves his old life behind and travels across the world, eventually settling in an Indonesian community where he takes a wife.
The narrative style of this book was quite unconventional, as most of it is in the form of Marlow narrating the events to others, as the book approaches a violent finale. The problem I had with this book was that it was quite long-winded, and more focussed on descriptions of the characters than events, so the pacing felt very slow at times.
The thing I liked best about the book was Joseph Conrad's ability at vividly describing the environments that the characters were in. I was at times not really sure whose side I was meant to be on, and perhaps not surprisingly, the book seemed a bit racist at times, with the way the Indonesians were portrayed (this does seem typical of Joseph Conrad's books, though).
Parts of the story, particularly near the end, reminded me of Conrad's other book,
Heart of Darkness
.
Current Location:

My Flat

Current Mood:

peaceful

Current Music:

Oasis, "Waiting for the Rapture"
(See my journal)
Current Location:

My Flat

Current Mood:

hot

Current Music:

Meat Loaf, "Is Nothing Sacred?"
I'm getting fed up with work; I usually seem to spend most of my working day just doing stuff and not really interacting with others. My work colleagues can be unbearable at times with their unfriendliness. I tried to have some banter with one of the guys in my team about how he'd got in really early and he just made it obvious that he had no desire to reply with any sort of banter and just got grumpy with me for speaking to him. I kind of wanted to tell him what a jerk he was being, but since it's best not to do that sort of thing in the office, I let it slide.
I went to a Doctor Who exhibition today; I got this picture:
It wasn't a brilliant exhibition; it was in a few small rooms and looked a bit amateurish, with so-so models of Doctor Who monsters. It was enjoyable enough, but not something anyone would stay long at.
I also had a coffee in Starbucks and lunch out. I'm hoping the weather is good for tomorrow's picnic.
I'm taking time off work - using some of my annual leave to get a break since I've not had one since South Africa, so will do some chilling out around the flat.
Current Location:

My Flat

Current Mood:

hot

Current Music:

The Hoosiers, "The Trick to Life"
I had read about this book, which sounded something like "Rear Window" on a train, which was what influenced me to read it.
It starts with the central character, Rachel, taking her everyday train into work and observing people on the train and people who she sees out of the window, as well as a mysterious pile of clothes on the track. She takes an interest in one particular couple, until a few chapters in when it is revealed that the girlfriend, Megan, has gone missing.
Rachel immediately assumes the mantle of detective and starts her own investigation, getting close to Megan's boyfriend Scott by lying about who she is. It does become apparent early on that Rachel is not perfect; she is a recovering alcoholic, who had a bad breakup with her husband Tom. Tom's new wife Anna clearly hates her, and there is also the issue that she had a blackout the night that Megan disappeared, and suddenly Tom and Anna were angry at her, and she has no idea why.
I loved the narrative style of the book, written mostly in the present tense, in the form of memoirs and from the point of view, of Rachel, Megan and Anna; the point of view alternates throughout the book, and occasionally moves back and forth in the timeline (Megan's chapters are all told in flashback, not too surprisingly).
I liked seeing the world through Rachel's eyes, and then seeing her from the point of view of Anna. It was a good way of giving the characters personality and making me care for Rachel, Megan and (eventually) Anna.
I loved the way that the book kept me guessing, and I found it gripping right to the end.
Current Location:

My Flat

Current Mood:

enthralled

Current Music:

The Hoosiers, "Cops and Robbers"